Hi there, hope you're enjoying the site. We just wanted to let you you know that we may collect a share of the profits if you go on to buy a product after clicking one of the links, images or buttons on this page.
Let Us Help You Find Some Good Ankle Weights After 2015
Ankle weights are a great way to add a little resistance to your training without going overboard. If you're recovering from an injury, want to take your daily walks to a new level or aren't quite ready to add strength training to your routine, ankle weights are ideal.
Strapped to your ankles, these weights make your lower body workouts a little more difficult, allowing you to gain strength in your calves, quads and glutes.
Like most other fitness products, some ankle weights are better than others. When weighing your options, keep these points in mind:
Fitness Goals: Are you planning on walking with ankle weights or performing isolation exercises? Determine what your goals are before choosing a model. Some ankle weights are adjustable, while others are not. If your goal is to gain strength, you may be better off going with an adjustable model.
Comfort: Consider the comfort level of the weights. No matter how you use the weights, you'll want a pair that won't dig into your skin or cause friction that can be irritating. The more comfortable the weights are, the more likely you'll be to use them on a daily basis.
Durability and Quality: Whether you're walking, jogging or doing isolation exercises, you want to make sure that you choose weights that can withstand heavy use. Poor quality ankle weights can be downright dangerous if they break apart mid-use. Check user feedback to see whether the model you're considering is high quality and will give you years of use.
To help you find the right ankle weights for you, we're going to share and review the top models on the market this year.
The Best Ankle Weights Reviews for 2020
Valeo AW5 5-Pound Adjustable Weights – The AW5 from Valeo offers adjustability, so you can boost the weight as you progress. Weighing five pounds altogether (2.5-pounds each), these weights can enhance your coordination, balance, endurance, flexibility and even your core strength.
Each weight pack weighs 1/2-pound, and can easily be removed or added to adjust the weight of the band. Padding eliminates friction, making exercise more comfortable. The grip-strip closure allows for a snug and secure fit, so you don't have to worry about the straps falling off mid-workout.
These ankle weights are ideal for the budget-conscience buyer who is looking for adjustability and comfort.
Thera-Band Comfort Fit Ankle Weights – Thera-Band's ankle weights come in five-pound pairs, and are comfortable enough to be worn while running or during other intense workouts.
Each band weighs 2.5 pounds, which adds just enough resistance to make your workouts a little more challenging.
The neoprene exterior wicks moisture to keep your ankles from overheating. The adjustable strap also ensures that the band fits comfortably and securely around your ankles.
Inside the band is a soft terrycloth material that absorbs moisture without irritating the skin.
These are the best ankle weights for women who walk outdoors because they have reflective trim for added safety. And with their budget level status, these weights are a bargain.
Da Vinci Adjustable Ankle Weights – Da Vinci's adjustable ankle weights are affordable and come in a variety of weight options to suit your needs.
Each weight class is categorized by color: orange for one pound, blue for 1.5 pounds, light green for 2 pounds, yellow for three pounds and green for five pounds.
An adjustable Velcro strap allows you to find a fit that's comfortable, secure and snug. The padded design also prevents friction and skin irritation while absorbing moisture.
The small weight increments allow you to gradually boost the resistance level, so you can enjoy a more challenging workout without going overboard.
All Pro Adjustable Ankle Weights – All Pro's adjustable ankle weights are a bit more high-end than other models on our list , but are worth every penny if you're serious about safety.
Each band features padding in the ankle area and along the heel to protect your Achilles tendon. The cushioned flaps also allow for complete freedom of movement and full range of motion.
Weights can be adjusted in half-pound increments for up to five pounds per ankle. These are solid iron weights, so they're extra durable. Each band offers weights of up to five pounds, which equates to ten pounds per pair.
While more expensive, these are premium-quality weights.
Stronger Ankle Weights for Women – Designed for women, Stronger's ankle weights are comfortable, durable and add just the right amount of resistance to your training. With extra-padding, these weights will protect your ankles while preventing irritation and abrasions.
Each cuff weights two pounds, which gives you the resistance you need to bring your workouts to the next level. And the adjustable strap allows you to find just the right fit for your ankles.
Whether you're doing Pilates, cardio or Crossfit, these ankle weights will stay securely in place until your workout session is over.
If you're looking for a pair of ankle weights designed especially for women, Stronger is the right choice for you.
Buyer's Guide –  How to Choose the Right Comfortable Ankle Weights for You
Buying a pair of ankle weights should be simple, but there are many things you need to consider before you dive in and purchase a pair.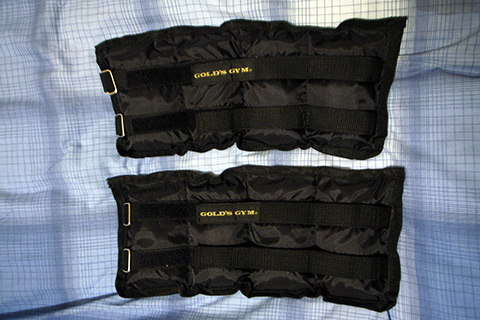 Weight Capacity: How much weight are you looking to add? Most ankle weights don't go any higher than ten pounds (per pair), but that's probably as high as you want to go no matter your fitness level (higher weight would put too much pressure on your knees). Adjustable ankle weights are great for this purpose, because they allow you to customize the weight and adjust as you progress. If you're only looking to add a little bit of weight, the Da Vinci weights are ideal because they offer in 1-pound variations.
Fit: Naturally, you want ankle weights that will fit you properly. Look for models that offer secure straps, so you can ensure the fit is tight and secure. Also, make sure the weights have padding for added comfort and security during use.
Price: Don't forget to factor in price when choosing a pair of ankle weights. Most models are highly affordable but you'll also find some that are higher priced. The high-end models are often worth the extra cost, but models in the  mid-range can be just as good. Go with the best quality you can afford.
Moisture Control: While not a necessity, some ankle weights do have moisture control that makes them more comfortable to wear during an intense workout. Extra moisture control can also make the weights safer to use because they'll be less likely to slip off or move around while you exercise.